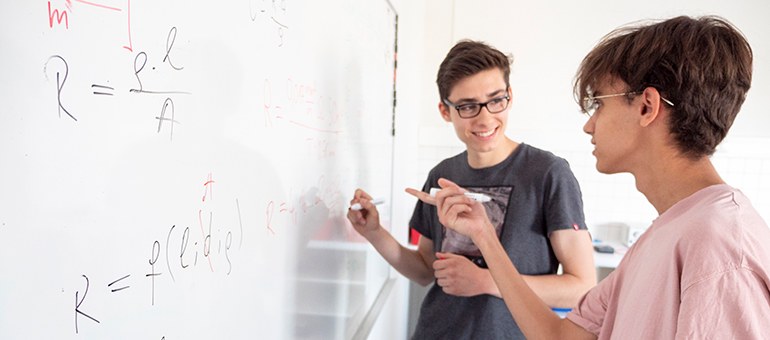 Your Qualification for University Studies
Our students can prepare for the Abitur from grade 11 onwards. They obtain the Abitur, the general qualification for university admission, which enables them to study at university. The qualification phase in years 12 and 13 is preceded by a one-year introductory phase at year 11, in which pupils deepen and expand the skills they acquired in secondary level I.
At the Klax School, we attach great importance to ensuring that no pupil leaves our school without a qualification. Therefore, we offer an individual learning consultation in which the young people are optimally prepared for the Abitur exams. Our students are very well prepared for their exams, for which our subject-specific learner-centred environments have proven to be very effective. Furthermore, the subject teachers provide regular afternoon tutoring sessions that make a significant contribution to exam preparation.
Innovative, Curious and Future-oriented
The learn families of the upper secondary school at Klax consists of 50 students. We offer a high level of methodological competence and excellent professional support for every student. The qualification phase in grades 12 and 13 is preceded by a one-year introductory phase in grade 11, during which the students deepen and expand their skills. Our teachers pay great attention to students' personal circumstances and learning difficulties (attention deficit disorder, LRS, dyscalculia, etc.) so that they have the opportunity to graduate successfully.
Benefits
Individual specialist focuses: Choice of basic and advanced courses
Individual learning counselling and intensive support
Political Science, Philosophy and Performing Arts are optional subjects on the timetable
Students can use our own school library
The learning studio allows students to independently deepen their knowledge of topics covered in lessons
Bring Your Own Device: In-house WLAN to research instruction-related information on the Internet
More Information
Get to know us on one of our Open Days. We will show you the class rooms, present our educational concept and explain our project work. Self-organised learning, modern media education, and the perfect class sizes from primary school to graduation. Find upcoming events here.