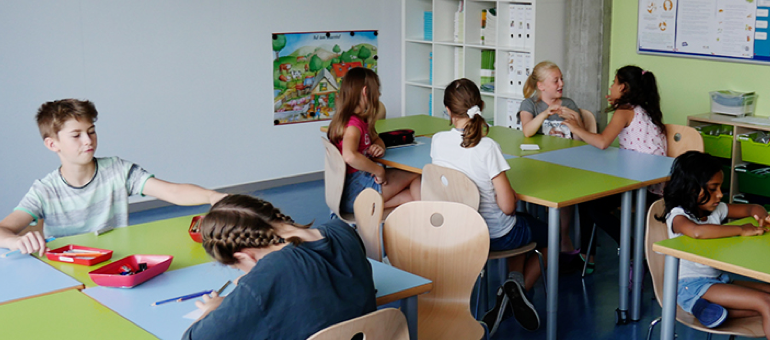 Space for Discoveries
We teach up to 150 school children in two Learn Families (Grades 1 to 3 and 4 to 6). We offer the children a positive environment, which always welcomes them with new tasks and learning opportunities. As primary level educational specialists, we see ourselves literally as Learning Guides.
We work with our students according to the Klax Pedagogy. This includes the method of self-organised learning: Together, we define individual learning paths with each child, according to the principle of "Learning with Goals". In this way, they learn over time to independently plan their learning pathways and to classify their own level of competence. This promotes a reflective learning attitude and gives our pupils the feeling of being responsible for their own learning process from an early stage.
What we Offer
Emphasis on art: more art lessons than at other schools
Digital Technology in the classroom
Small classes: grades 1–3 max. 22 students, grades 4–6 max. 24 students
Teach teams: the teachers work in so-called teaching triangles and support each other. In grades 1–2, the teachers are additionally supported by pedagogical specialists.
English from Grade 1 on
Bilingual classes
Various sports and exercise classes
Swimming lessons starting in primary school
Fresh breakfast, lunch and afternoon snacks every day together with other students
Bilingual Classes
In our new bilingual class English and German will be equally important. Classes will be taught according to the immersion principle, the most successful language acquisition system. In this way, we prepare children and young people for a globalized, networked world. The students will be taught by a native English-speaking class teacher and supported by a German-speaking educator. We teach German and Maths in German; English and Science in English; Art, Music and PE either in German or English.
Immersion as a Learning Method
Learning the language is never the explicit goal of a lesson. Students do not study vocabulary or grammatical concepts. Language is used in context and across all subjects. In immersion programs subjects are taught in the target language instead of teaching the language. Students learn to speak, read and write in both languages. They will be able to speak colloquially, read and understand difficult texts and debate and present in both languages. They will also be able to write difficult and linguistically correct texts.
Immersion programs have been studied extensively and have shown higher success rates than ordinary foreign language programs in Canada, USA and Germany. For further information see the EUROPA-study of the University of Kiel.
Secondary School
The choice of secondary school after the sixth grade is an important decision for all parents and children. With the completion of the sixth school year at Klax School, our children are self-organized, creative and competent and thus ready for the next step. We want to accompany our students on their way and support them in their development.
With the change into the middle school of the Klax school the children meet friends and classmates again. In addition, they stay in their familiar inspiring environment and meet familiar learning methods as well as pedagogues who see them as growing personalities.
More Information
Get to know us on one of our Open Days. We will show you the class rooms, present our educational concept and explain our project work. Self-organised learning, modern media education, and the perfect class sizes from primary school to graduation. Find upcoming events here.