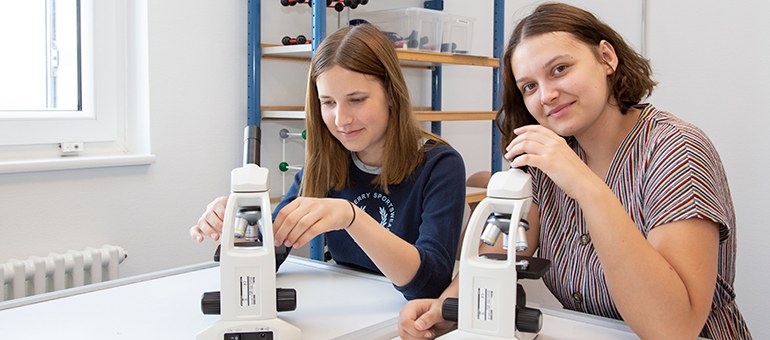 As a secondary school, we want to make it possible for each student to achieve individual learning successes and the personally aspired school graduation. Our Secondary School offers all school-leaving certificates available in the state of Berlin:
the vocational training certificate (BBR, before "Hauptschulabschluss")
advanced vocational education (eBBR, before "erweiterter Hauptschulabschluss")
intermediate school-leaving qualification (GCE Ordinary Level) (MSA, before "Realschulabschluss")
We prepare the students extremely well for their exams. The work in subject-specific learning counters has proven its worth. In addition, the subject teachers offer regular support hours in the afternoons, which make a significant contribution to exam preparation.
Competent, Purposeful and Confident
Our state-approved secondary level I (grades 7 to 10) has two classes per grade. We perceive our students as personalities and encourage them in their development. In addition, we offer them intensive support in small classes. Our teachers are very considerate of personal characteristics and learning restrictions (attention disorders, reading and spelling difficulties, dyscalculia, etc.).
At the secondary level, we continue the "self-organised learning" begun during primary school. The students know how to assess their level of competence and plan their learning paths independently. They further consolidate the self-responsible learning attitude for their own educational path.
Speaking several languages has a high priority in our society. In many professions, very good English skills are required.
For this reason, from the school year 2020/2021 we will offer a bilingual English-German stream in the 7th Grade of the Klax School. Every school year we will admit a new bilingual class in the 7th Grade. The students can acquire and consolidate language skills that go far beyond the usual English lessons. In addition to an intensified English course, the subjects English, art, history/political education and biology will be taught in English. All other subjects in German. The students are supervised by an English-speaking class leader.
A prerequisite for admission to this class is that the pupils speak English or German as their mother tongue. Knowledge of the other language is desirable but not necessary.
The integrated secondary school introduced in Berlin in 2010 replaces the former Hauptschule, Realschule and Gesamtschule. With the secondary school and the Gymnasium, there are only two types of school in the lower secondary level (grades 7 to 10). Secondary level II (grades 11 to 13) is equivalent to the Gymnasium in terms of educational standards and school-leaving qualifications. At the Klax Schule, students can obtain the Fachhochschulreife or the Hochschulreife after the 10th grade.
More Infos
Get to know us on one of our informative afternoons. We will show you the class rooms, present our educational concept and explain our project work. Self-organised learning, modern media education, and the perfect class sizes from primary school to graduation. Find upcoming events here.