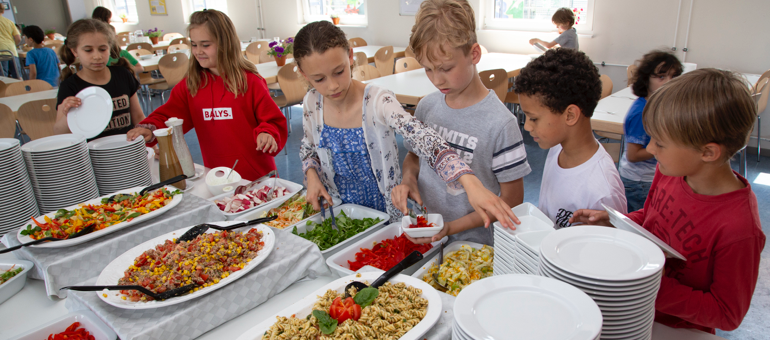 A Variety of Whole Foods
We are convinced that a sensible diet strengthens well-being, academic performance and self-esteem of people even at school age. When creating the menus, we rely on versatile and delicious whole foods that are healthy and fun. Our school cafeteria provides fresh breakfasts, lunches and afternoon snacks every day. In addition, a selection of fresh fruit and vegetables is always available.
That's why we rely on the wholefood catering service from Löwenzahn for our school lunches. Löwenzahn has many years of experience in in preparing  wholesome, varied foods and is a competent partner for our school in all matters relating to food. Löwenzahn Dienstleistungs GmbH belongs to the Klax Group, and is committed to our common quality standards and goals. The Löwenzahn kitchen is certified annually with the organic quality label.
Cared for with Peace of Mind
The Löwenzahn chefs make sure to use a high proportion of organic products in their foods. In particular, staples and dairy products are sourced from certified organic cultivation. They source welfare meats from "Neuland". Löwenzahn generally orientates itself on the guidelines of the German Nutrition Society in the selection and preparation of food.
For children and adolescents undergoing various phases of growth, meeting the need for essential nutrients is of particular importance. That is why we consciously pay attention to low-fat foods and avoid excessive use of sugar and salt. The food is cooked in a nutrient-preserving manner, and thus optimally promotes development.
Individual Special Diets
Of course Löwenzahn also considers individual diets, for example for religious reasons, as well as food intolerances. In cooperation with the Deutsche Zöliakie-Gesellschaft (DZG) Löwenzahn offers a wide range of special diets and will be happy to advise you.