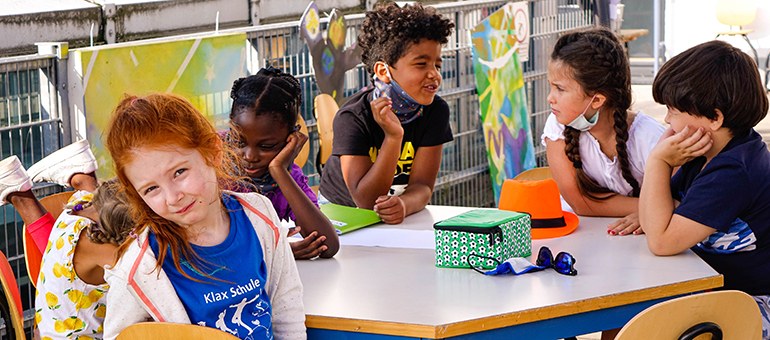 Our Solutions for the 20/21 School Year
The new school year has begun and we have made use of the summer holidays to develop a detailed action plan for a regulated and safe learning environment at our school.
Classroom teaching in fixed Contact Groups
Outdoor Lessons
Blended Learning: alternating short instructional phases together with fellow students and teachers as well as self-study phases and group work on the digital learning platform Microsoft Teams (Education)
Staggered Breaks and Meals
Extensive Hygiene Measures and Regular Ventilation
Reception Desk Routines with Self-Declaration and Fever Measurement
Superheroes in the Corridors and in the Stairwell: Everyone wears Masks!
Together against Corona: We keep an eye on each other
The school community is divided into contact groups that do not meet during their everyday learning. Depending on the scenario, we form contact groups of different sizes.
If the number of infections increases, we can react quickly: As an Excellent Digital School we have the resources and know-how to switch smoothly between face-to-face and online teaching and to ensure that the timetable is fully implemented.
By staggering the lesson and break times, we guarantee that all social activities, such as morning and final circles, the shared meal or afternoon activities, can take place.
At our school's reception desk, students, parents and guests are welcomed by specially trained staff, instructed on the Corona rules applicable in the school and asked to provide information about themselves. Parents accompany their children to the reception and pick them up here again. The temperature of the students is controlled.
In the corridors and in the staircase we wear mouth-nose covers and keep to the prescribed directions of passage.
Our lessons: Blended Learning and often outdoors
Using the "blended learning" method, we combine classroom teaching and working on the digital learning platform Microsoft Teams (Education). In the first step, our Learning Guides convey the current material in compact learning inputs.
These inputs are then discussed in Learning Groups on our digital Learning Platform. The Learning Guides support the students in completing the tasks. Working materials and learning aids are also available online. The students can record the inputs and play them back at any time.
In addition, we have moved as many lessons and activities as possible outdoors and have developed individual protection measures for particularly high-risk situations, such as music and drama classes or school events.
Digitalisation is not a dream of the future for us
In our school we use a Digital Learning Platform from the fourth Grade onwards. Students bring their own equipment for this purpose or borrow laptops or tablets at school. Beamers are installed in all classrooms, our school has high-speed Internet access and full W-LAN coverage.
A project group of 11th Graders has set up a support area on the Learning Platform. Here they provide Tutorials to their schoolmates and offer advice in the chat at fixed times.
Our Makerspace: We build what we need!
Our school has its own Makerspace. Here the school community builds what it needs: To keep the doors open for ventilating, the 3D printer prints door stoppers and window holders. Teachers and students tinker with self-made face visors and CO2 measuring devices. Self-programmed timers have been installed in the bathrooms to help us keep to the exact hand washing time.
Eindrücke au dem neuen Schuljahr