Klax School wins the title of "Young Star" in the "Make-IT Digitaltalente" competition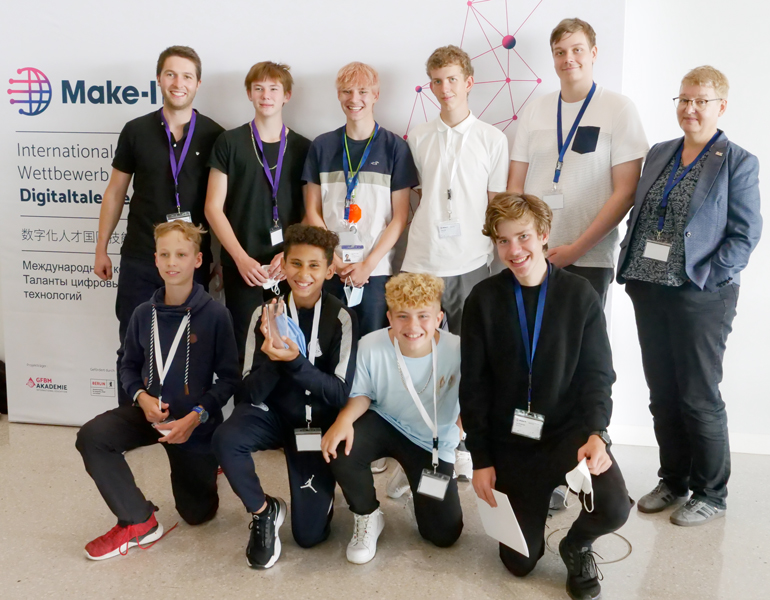 Eight students, IT teacher André Timm and Klax founder Antje Bostelmann were delighted at the Futurium Berlin. The young people had taken part in the international competition "Make-IT Digitaltalente" and were awarded the young talent prize "Jungstar". In doing so, the jury recognised the creative work and great commitment of the 12 to 17 year olds.
The team of the Klax School consisted of 12 committed pupils from grades 7 to 12 (not all of them could be present at the award ceremony in the Futurium), who won with a total of three projects: A plan for a machine that uses artificial intelligence to sort Lego bricks by colour, a mobile waste bin and a people counter. "The students had the idea at the beginning of the Corona period and successfully constructed the counter according to their own plans," reports André Timm. "In the meantime, it is used every day. We can use it to ensure that there are no more than the maximum number of people in the school's toilet rooms." The students had submitted their projects in the form of entertaining videos, which were shown during the award ceremony in the Futurium.
The Make-IT Digital Talent International Competition was held for the first time in 2021. It was organised as part of the Berlin-Beijing-Moscow city partnership and funded by the Senate Department for Integration, Labour and Social Affairs. It was hosted by the GFBM Academy, which is committed to high-quality vocational training both nationally and internationally.
On the website of the GFBM Akademie you can find a picture gallery with photos of the award ceremony.