New Solutions
When all schools had to close their doors practically from one day to the next because of the Corona crisis, for many pupils and parents this meant homeschooling with self-printed worksheets. Not so with us: We were able to use digital solutions from day one and continue lessons almost seamlessly. As it is currently impossible to predict how the pandemic will develop and when our school will be able to open its doors wide again, we have drawn up a plan for the rest of the 2019/2020 school year.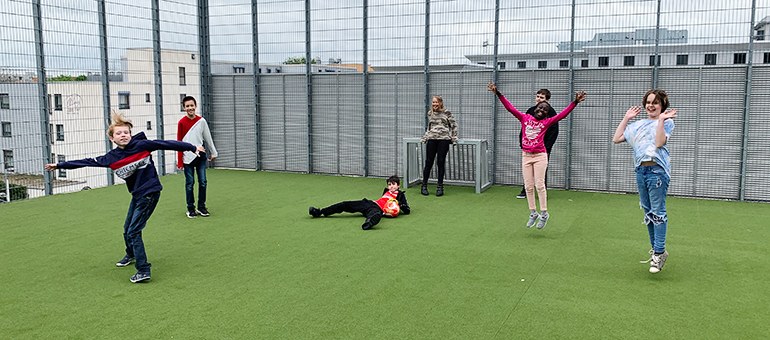 At school
Especially our young students missed their class during the school closure. The social community is one of our most important concepts for promoting competencies and we especially want to support the children in the primary school to establish a strong connection with their class. That is why the children come to school from the first to the fourth grade to learn together. We have developed a concept for this purpose that ensures that the pupils in the individual classes do not meet unnecessarily in the school. Each class has its own rooms and sanitary facilities. The breaks are staggered.
Distance learning
Children and young people in the middle and upper school are still taught at home via a digital learning platform. The members of the Learning Families continue to meet in morning digital meetings to discuss tasks and weekly goals. The Learning Guides are available to the pupils all day and support their competence development. Even during the Corona crisis, not a single day had to be canceled. For our pioneering role in digital educationAmong other things, we were awarded the "Excellent Digital School" Quality Seal by the Berlin Senate on 6th of May.
Club-Linie Online
Due to current events, we offer our afternoon course programme exclusively online. As usual, the children and teenagers can choose from numerous activities such as chess, coding or aerobics. The course instructors design the activities so that there is a lot of interaction and exchange, even from a distance.
Summer School
For a good start into the new school year, we are offering a Summer School for students who have had difficulties following the curriculum during the Corona closing time. The Summer School concept is currently being developed and will be published here shortly.
Emergency care
For students who for certain reasons cannot attend online classes from home, we offer emergency groups. Here the children and young people also work and learn digitally and are in contact with their classmates in the classroom and the learning guides. We provide the necessary resources (W-Lan, technology, accompanying person) for the pupils in emergency care.
Eindrücke vom "neuen Schulalltag"