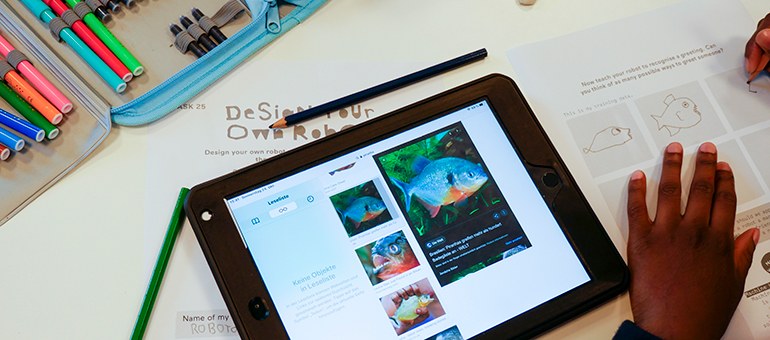 Digital Education
At Klax School, children and young people learn how to use digital technology responsibly, purposefully and productively.
The devices that already surround us everywhere hold a lot of potential. They are tools that open up new possibilities for creative expression and knowledge transfer. But in order to tap into this potential, we need to understand the functionality and technology behind the devices.
Right from the start, our students learn to use computers and digital media to their advantage. To this end, we have introduced the "Technology, Innovation and Information Competence" curriculum and developed a curriculum for educational work in the digital age.
Competences for the Future
In the digital society, the way knowledge is conveyed has changed. In traditional learning settings, children learn to listen and give the expected answer - they learn for tests and exams. In the context of future competences, however, it is not enough to remember and reproduce learning content. Knowledge must be discovered, critically questioned and effectively classified and applied.
If you want to acquire knowledge today, you must be able to judge and order the world-wide knowledge. Today's children learn for multi-perspective occupations, some of which we do not yet know anything about. They must be able to learn again and again, to "unlearn" what they have already learned and to integrate new insights. In order for this to succeed, we continuously change our school. Our school shall become a place of joint research and questioning.
Our students use tablets, apps and computers as tools. A "computer room", on the other hand, is not sought at Klax Schule. We include digital technology in our daily work. Digital content is not consumed, but used productively. For this purpose, we have set up a high-performance Internet access where the pupils can log in with their own terminal device in order to be able to work digitally in relation to their lessons.
Our School Ambassador: Linda Liukas
Linda Liukas loves computers. For her, these devices and the principles according to which they work are not complicated or even boring. For Liukas, they are tools and aids that open up completely new dimensions of creative and spiritual expression and exchange.
After visiting Klax School in autumn 2019 Liukas agreed to become our school godmother. In our learning concept of self-oriented and project-based introduction of children and young people to technology and programming, she finds her ideas reflected: "It feels so amazing [to] see in practice all of these things that I think about on a very […] theoretical level."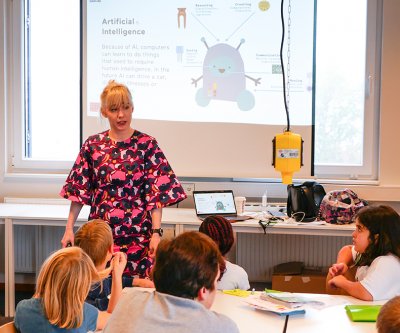 "Computers are about humans and their big ideas" (Linda Liukas)
Rails Girls, Hello Ruby, Love Letters
At the age of 24, the Finn and a friend founded the initiative "Rails Girls" to introduce girls and women to programming and technology. Since then, events and activities have been taking place all over the world, bringing the supposedly "male" field of interest to women.
Four years later "Hello Ruby" saw the light of day. This unique book series, which brings boys and girls of pre-school and primary school age into contact with digital topics, started as a crowdfunding project. Liukas wanted to collect 10,000 US dollars – and reached her goal in only 3.5 hours. By the end of the campaign, almost 10,000 supporters had raised more than 380,000 US dollars. In autumn 2019, the fourth volume of the series was published. The books were translated into more than 20 languages.
Most recently, Liukas published the ten-part YouTube series "Love Letters for Computers", in which she encourages teachers to integrate computer science and coding into their lessons.
"Computer science is not about computers. It´s about using computers to solve problems."
(Linda Liukas)