German School Award: Congratulations from the Senate Administration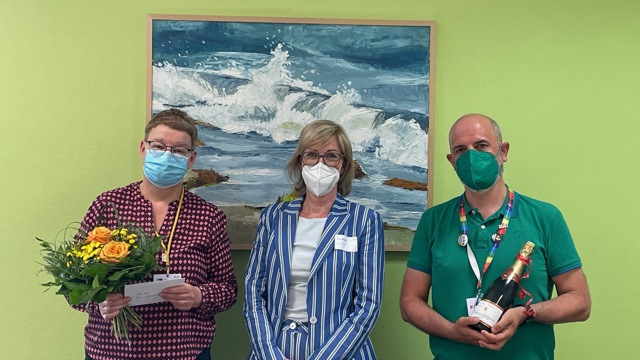 The day after the German School Award ceremony, the Klax School had a visit from the Senate Administration: Carmen Witt (photo: centre) from the School Inspectorate for Independent Schools presented flowers and congratulated Antje Bostelmann (Managing Director and Founder of the Klax School/ left), Headmaster Stephen Kelly (right) and the entire team of the school very warmly on their nomination for the German School Award Special 2020/21 and on their second place. "Klax can be very proud of this success," praised Carmen Witt.
Anja M. Teichert, who is also in charge of hygiene issues at schools at the Senate Administration and accompanied Ms. Witt, explicitly praised the hygiene concept of the Klax school: she feels "very comfortable" in the Klax facilities and is "very happy" that this good operational concept exists.